What is Universe Sandbox ?
Universe Sandbox is a physics-based space simulator.
It merges gravity, climate, collision, and material interactions to reveal the beauty of our universe and the fragility of our planet.
Create, destroy, and interact on a scale you've never before imagined.
Rated Overwhelmingly Positive from over 11,000 Steam reviews
For Windows, Mac, and Linux
Need purchase help? See our FAQ or contact us
What can you do with Universe Sandbox ?
Simulate Gravity
N-body simulation at almost any speed using Newtonian mechanics. Real science, real physics, no supercomputer required.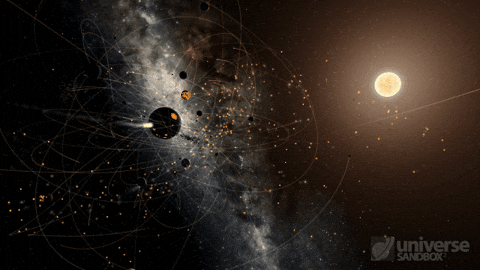 Collide Planets & Stars
Epic, mind-blowing collisions of massive planetary bodies.
Create Your Own Systems
Start with a star then add planets. Spruce it up with moons, rings, comets, or even a black hole.
Model Earth's Climate
Watch sea ice grow and recede with the seasons because of the tilt of the Earth: change the tilt and change the seasons. Or move the Earth farther from the Sun and freeze the entire planet.
Supernova a Star
Make a star evolve by cranking up its age or mass, then watch a supernova unfold.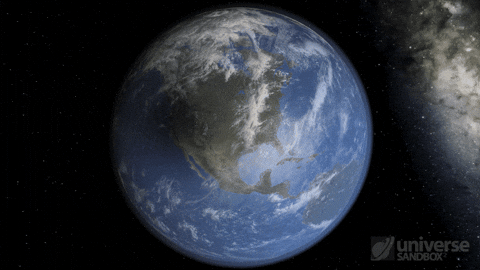 Explore Historical Events
Ride along with the Juno and New Horizons spacecraft, or view a total solar eclipse.
And more...
Material system: build planets out of hydrogen, iron, rock,
& water
Stellar flares & volatile trails
Procedurally generated
planets, stars, & galaxies
Pulsars
Light-warping black holes
Share & explore simulations on Steam Workshop
Explore Universe Sandbox in VR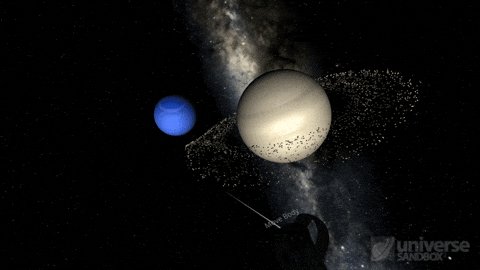 Walk and fly around your simulations, then grab and hurl planets out of the Solar System with a flick of the wrist.
Universe Sandbox includes the desktop version and a VR mode with support for HTC Vive, Oculus Rift+Touch, & Windows Mixed Reality.
Videos
Universe Sandbox Gameplay Video
Universe Sandbox Trailer from Early Alpha
What Are People Saying About It?
It's easy to use, beautifully tutorialised, and hugely fascinating.
I just finished playing and my mind is blown. I spent most of my time staring at the screen, smiling like an idiot.
[Universe Sandbox] is one of the coolest things I've used on Vive so far.
Most epic moment - increased the mass of the sun when it suddenly flashed insanely in a giant supernova. Epic touch.
...a vast improvement over the original. ... an incredibly enjoyable simulator.
This simulator will blow your mind. I love it.
Everyone should be playing Universe Sandbox.
To describe the simulated destruction of Earth as satisfying is to undersell the delight of a child with a magnifying glass and some plastic soldiers.
I just love this stuff. I could explore this game all day.
Love this program. So pretty. You guys really outdid yourselves!!
It's like my great grandfather always used to say, 'Nothing like destroying 45 simultaneous instances of the Milky Way to brighten up a bad day.'
If the water starts to evaporate, this might be one of the best games ever made... [water evaporates]
Space is so cool!
A space simulator like no other: The Sims meets Elite meets Stephen Hawking's archives.
This simulator really puts you in the driver's seat to the universe we live in.
Sign Up for Updates
Who's Making It?
Dan Dixon
Creator & Director
Christian Herold
Lead Engineer
Georg Steinröhder
Senior Graphics Engineer
Jonathan Hoy
Senior Engineer
David Rappo
Executive Producer
Mat Solomon
QA & Associate Producer
Jacob Williams
VR Engineer
Erika Nesvold
Astrophysics Engineer
Brendan Bennett
Graphics Engineer
Anders Ørum
Spaceship Physics Engineer
Brent Shapiro-Albert
Science Writer & Community Advocate
Brian Maher
User Interface Engineer
Macoubre
Composer
Collectively we are Giant Army
Standing on the shoulders of giants...
Now hiring | Join our 100% remote team

Physics Engineer - Planetary Destruction
Cross-Platform Engineer